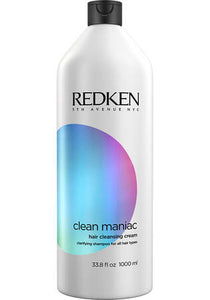 Clarifying shampoo for all types of hair.
• Clarifies and works to remove copper, iron, hard water minerals and styling product build-up.
• Purifies, refreshes and leaves hair shiny.
• Highly effective to prepare hair for chemical services.
• Ensures hair is in the best possible condition to accept chemicals to achieve optimal results.
Clean Maniac products are powered by Micellar technology to gently cleanse and remove product and environmental buildup from the hair. Clean Maniac provides hair with a deep cleanse and is gentle enough for everyday use.
INGREDIENTS
• Chelating Agents = Help Remove Mineral Deposits
• Fruit Acids = Strengthen Cuticle and Add Shine